See how Patrick's skills helped Sister Cities Girlchoir on a Marketing Strategy call.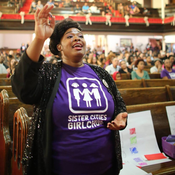 SCG helps at-risk girls and their families build resilience, confidence and connection through choral excellence to break the cycle of poverty.
What did Alysia need?
What is the best way for me to communicate with my external stakeholders?
Alysia is running a terrific organization that empowers girls through music. She's developing plans to improve their recruiting strategy.
Matched On
Feb 21, 2017
Saved
$392
Have professionals like Patrick help you on a Marketing Strategy call
Post this call
Volunteer
A highly effective and creative executive with extensive success as an influential communicator, advisor and motivational leader who mentors and develops talent. Counseled multiple CEOs and senior executives on messaging, crisis communications, media interviews and presentations. Developed strate...
Read More
What did Patrick have to offer?
As a Big Brothers Big Sisters volunteer mentor since 1990, I work closely with at-risk children and parents in Pittsburgh. Programs like SCG can boost self-confidence and self-esteem, and help these kids succeed in school and life. At PNC Bank, I also was active in the promotion of the Grow Up Great preschool initiative to parents and educators.
This was a terrific call and HUGE help as we solidify our marketing plan---Patrick had done some research about our organization and was offered expert advice based on our needs! Beyond helpful---we have a solid plan to move forward!
This engagement is sponsored by